CASE STUDY: Dairy Farm Hot Water Heat Pump
Mr. Joe O'Brien - Dairy Farmer - Limerick
Client Objective:
To reduce the water heating electricity bill using a sustainable energy source - the previous system was an electric water heater with 1x3kW electric immersion, which is a very common system used on dairy farms in Ireland today; but it is the most expensive one to run.
Solution: Glenergy's Dairy Farm Hot Water Heat Pump
This hot water heat pump uses the ambient air temperature to generate heat to heat water. It is simple to install and is three times more efficient than an electric immersion heater. In Joe O' Brien's milking parlor, the heated air around the condenser is extracted and used by the heat pump to produce hot water.
Results:
66% reduction in electricity bills. After a simple installation an energy meter was installed to measure the electricity consumption. Joe's electricity bills fell by 66% from €1134 to €378 per year.
More hot water means excellent TBCs and consistent production of premium grade milk.
This system will payback in four (4) years.
Greenhouse gas emissions reduced by 2300kg/CO2 per annum.
System Costs:
Cost: 300L unit €3,950 ex VAT installed
10% discount to Origin Green Members: €395
Dairy Equipment Scheme Grant: €570 approx.
Final Cost: €2,985 ex VAT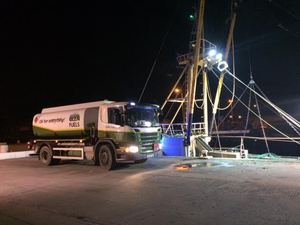 Fuel for Fisheries
Glen Fuels' state-of-the-art tankers transport 200L to 37,500L of top quality marine fuels, per delivery, along the East and South-East coastline from Dublin to Cork.
Our marine sales managers and delivery drivers offer an unrivalled and flexible understanding of your unique needs.
Contact us: sales@glenfuels.com

Farming Special Offer
Feeling the chill working on the farm? Visit GlenFuelsStore.ie for this summer giveaway.